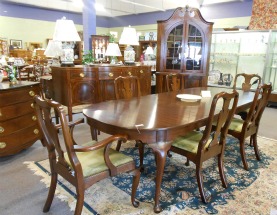 Don't let your hectic early -summer schedule keep you from a visit to Cornerstone! We're loading the consignment part of our store with great Dining Room and Bedroom furniture from Henkel Harris, Potthast, Ethan Allen and Others.
Summer's a fabulous time of year for finding deals on Consignment Dining Room, Bedroom, Living Room and Occasional Furniture. And Cornerstone is The Baltimore Furniture Store with the best selection of America's Finest Brands. From Baker to Bradington Young, from Kling to Kittinger, from Statton to Stickley, from…..You Get the Idea!
Use the manufactures drop-down list on the left side of the screen to search for pieces from your favorite. Better still, come visit us at Cornerstone to see all of these pieces, Plus what's being unloaded into our warehouse every day! You won't find a better selection of high-end, pre-owned, furniture anywhere.