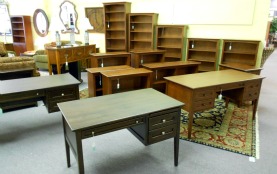 For our regular customers that have been asking about the next load of bookcases and desks, They're Here! We just unpacked and placed this group from Whittier Furniture. It includes a great selection of different size bookcases as well as two sizes of desks in two different finishes. Included in the shipment was also two media centers to hold your flat screen television.
We started carrying Whittier Furniture last year and have been thrilled to add their well-made, all-wood quality pieces to our New Department. Baltimore Furniture Buyers know that they can count on our store to sort through the many manufacturers out there and bring you a great line. With whittier, we've done that once again.
Visit us soon to get the very best selection. And if you need your bookcase in a "hard to find" size, remember to check out our line of Custom-Made Bookcases, where we'll build the piece to your exact specifications. Better still, our quality custom pieces are priced competitively with the Box Stores off-the-shelf furniture!