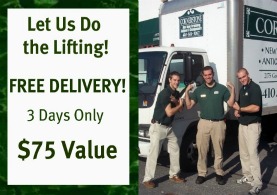 It's our Biggest Free Delivery Event Ever!! Any furniture purchased Today, Tomorrow or this Saturday includes Free Local Delivery. That's a savings of up to $75!
Don't live locally? You can still save when you have your items delivered by our Trained Delivery Specialist. We'll deduct $75 from the cost of your delivery to get you the lowest rate ever on getting your New Furniture safely from our store to your home.
Furthermore, our delivery is done on a Flat Rate Basis. That means you can load the truck with as many pieces as you wish. So come by this week and see Baltimore's Best New and Used Furniture Selection. Take advantage of our Everyday Low Prices and leave the moving to us…no charge!