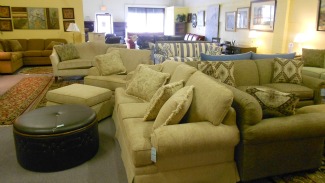 Tired of riding the "Sale of the Week Carousel" at the big box stores? Where you've got to wait out the rotating sale game in order to find the one that just delivers A Great Price on a Great Product! Well wait no more. At Cornerstone, we've got a wonderful selection of new Sofas, Chairs, Desks, Bookcases and More, all with Everyday Low Prices that the big stores can't match.
That's because we buy Closeouts, Overruns and Discontinued New Furniture from some of America's Best Furniture Manufacturers. Then we display them in their own area of the store- making it easy for you to distinguish our New Furniture from our Consignment Pieces. We go a step further by using blue price tags on every new item in the store. White tags are for pre-owned consignment pieces.
So get off the merry go round at the other stores and see just how far your furniture dollar can go at Cornerstone- Baltimore's Favorite Furniture Store!