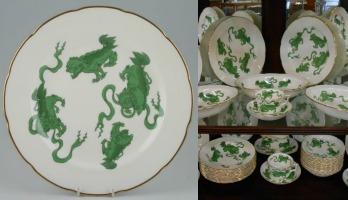 Pictured here is a beautiful set of Green Tiger Collage China. This set was made by Wedgwood exclusively for the Colonial Williamsburg Foundation and was recently brought in on consignment from a local Baltimore Estate!
It's just a reminder to all of our loyal website followers that, while furniture is our specialty, you're also going to see some wonderful home accessory items on every visit to Cornerstone. We carry Sterling Silver, Paintings, Prints, Fine China, Porcelain Pieces and More.
So make a trip to visit our 15,000 sq.ft. Baltimore Consignment Store. Because, while we picture every piece of furniture we get on our website, there's a huge selection of small treasures waiting to be discovered when you visit our store!