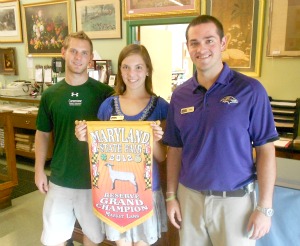 Pictured here are Cornerstone Employees Zach, Lydia and Alex. They're celebrating Cornerstone's winning bid of $1,370 at the Maryland State Fair for the Reserve Champion Lamb. All of the money for the lamb will benefit the wonderful programs that 4H administers throughout the state of Maryland.
While Furniture is our Passion, everyone at Cornerstone loves supporting our community. The 4H is near and dear to the heart of long time manager Dennis Kendall. His countless volunteer hours has helped hundreds of Baltimore County children experience the joys and responsibilities of working with animals.
Cornerstone would also love to support your favorite Charity or Non-profit organization. Click our "Fundraising" link to read all about how we can help raise hundreds of dollars for things near and dear to your heart!