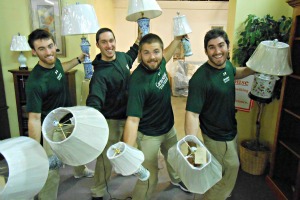 In addition to Cornerstone's Everyday Value-Pricing, we also have more ways for our customer's to save money. "Like" us on facebook, and we'll not only let you know each time we add pieces of our inventory to the website, we'll also send you specials and sales designed just for you!
This week, facebook users will receive 15% Off Every New Lamp in our store! And our regular customers know that we have Baltimore's best selection of Traditional Brass and Ginger Jar Lamps! You're going to find a great variety of high quality lamps in a many different styles and sizes.
Want more opportunities to save? Join our Email Club and we'll let you know about Free Delivery Days, Warehouse Sales, Free Appraisal Days and More! These emails only get sent about 8 to 10 times per year, so you don't have to worry about your inbox being overwhelmed.
So, Like Us on Facebook, join our Email Club, or both, either way, Cornerstone is going to save you money on your next Home Furnishings Purchase!