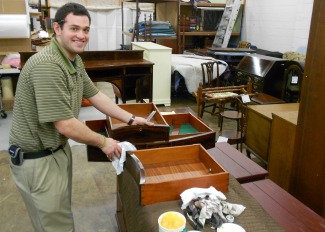 You may have already spotted this Beautiful Mahogany Inlaid Sideboard on the website or on our "Front Row" here at the store. But here's a picture of Manager Alex Hernan using the Cornerstone Cleaner to make this older piece of cabinet-made furniture look new again! It came to us with a wonderful original finish that just needed some expert TLC to bring it back to it's days of grandeur. And while cleaning furniture is not in Alex's current job description, he just couldn't wait to dig in and make it shine.
We've got a very busy week of pick-ups coming. Tomorrow's schedule has us bringing in two dropfront desks, two mahogany bedroom sets, an inlaid sideboard, a large china cabinet, nightstands, coffee tables and more! You'll find makers like Georgetown Galleries, John Widdicomb, Kincaid and Biggs among the group. Later in the week we've got more bedroom sets, dining room pieces and occasional furniture arriving.
So cold weather or not, we'll be heating things up at Cornerstone by bringing you Baltimore's Very Best Selection of High Quality Traditional Consignment Furniture. So "bundle up" and make the trip to visit. You may even catch Alex rolling up his sleeves to get another fine piece ready for your home!