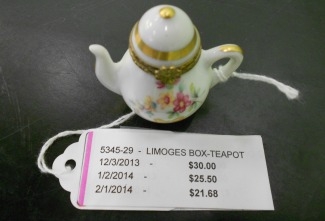 While Cornerstone offers Baltimore and Washington DC residents the area's Best Value Everyday on furniture from America's Top Manufacturers, this year's cold and snowy winter means even more savings! As the price tags pictured here show, the longer most items stay in our store, the lower the prices go. And this year's weather means that many customers are bundled up at home and waiting out the season.But the hearty souls that venture out are being greatly rewarded! That's because We're Seeing Many More Markdowns Happening Every Day! Markdowns that won't happen once the weather warms and the birds start singing again.
While the markdown on a small porcelain trinket may not add up to big bucks, the same 15% off of a large furniture piece, like the tag to one of our Beautiful Antique Corner Cabinets shown here, can Save You Hundreds of Dollars!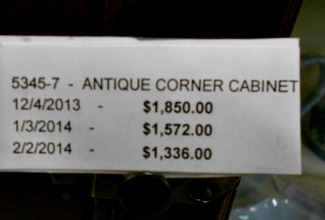 One thing to remember when browsing our website- while we occasionally edit the site with markdown prices, we just don't have the manpower to make it part of our weekly routine. So, most items are left with just their original starting price showing on the website. If you want to be sure of the current price, just call the store and we'll update you with the latest information.But do remember, that while we're seeing more markdowns than usual, the Majority of Furniture Pieces Still Sell at the First Price. That's because we work very hard to make sure we offer tremendous value from the first day a piece arrives!