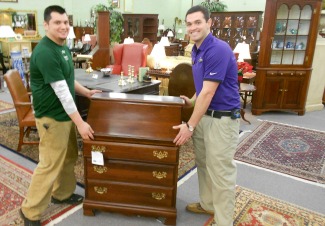 Here's a picture of Arnold and Alex placing a nice little Cherry Dropfront Desk on our Showroom Floor. This may be that head-turning Christmas gift you've been looking for all month. Better still, it's available at a Consignment Store Price that is sure to make you smile as well!
In the photo below, Greg is starting to unpack a truck full of furniture brought in from 3 Baltimore area homes. Furniture with Names like Henkel Harris, Ethan Allen, Statton and More. From our Timonium home we travel all over the Baltimore/Washington DC area to bring you the finest selection of High Quality Consignment Furniture.
Coming in on tomorrow's pick ups you'll find Hitchcock Pieces (Hutch, Corner Cabinet, Coffee and End Tables), PA House (Large Maple Corner Cabinet), Stickley (Twin Beds), Howard Miller (One of the Nicest Grandfathers Clock We've Seen in a Long Time), Maitland Smith (Painted Demilune Stand) and other great furniture.
Stop by the store to see it as it arrives!