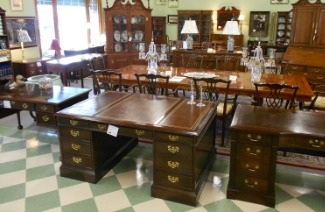 Our regular customers know that they can count on Cornerstone to have a Great Selection of Traditional Dining Room Furniture on Consignment Everyday! Home Office and Executive Desks are a bit harder for us to come by. However, if you've been waiting for the right desk, your wait may be over! That's because we've just received a very nice selection of desks in the last several days and have more coming in later this week.
Pictured here are Mahogany Desks by Sligh and Hekman. Clicking the "Desks/Office" link located under "Pre-Owned Furniture" on the left of this page will show you all of the wonderful desks we currently have on consignment. Join our Want List and we'll send you a photo, measurement and price of every desk that arrives in our Baltimore Store.
Whether you're looking for a Desk or Dining Room Table, you're sure to Find Tremendous Value when shopping at Cornerstone! That's because we sell America's best furniture ( Henkel Harris, Ethan Allen, Statton, Baker, Stickley, Etc) at just a fraction of what it costs new!