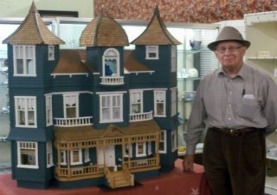 After the death of his daughter, Don Howard, a parishioner at Chestnut Ridge Baptist Church, wasn't quite sure what to do with her miniature dollhouse.Fellow parishioner & Cornerstone employee, Wally Nowlin offered to lovingly re-paint and re-decorate the dollhouse. Mr. Nowlin's ultimate goal was to use his gifts & talents of construction & design to rehabilitate the home and eventually find a new owner.
Today, after almost a year and half of painstaking work, Mr. Nowlin hopes to raise $2,800 for Chestnut Ridge Baptist Church by selling the beautifully renovated and furnished dollhouse to an appreciative owner. As Baltimore's Favorite Place to Furnish Area Homes, we thought Cornerstone could lend a hand! While our expertise is in Full Size Furniture and Furnishings, we knew that our customers would still appreciate the design and details of this smaller scale version.
Whether you are a kid at heart or a collector, please consider buying this miniature dollhouse. It would be a truly memorable gesture to buy this one-of-a-kind masterpiece and help the Chestnut Ridge Baptist Church Family Services Division. The proceeds will go directly to the Church. Cornerstone is simply offering the space to display this wonderful piece and doing it's part to let the community know about this philanthropic event. Please help us spread the word about this magnificent dollhouse.
We are also happy to accept any cash donations on behalf of the Church's Family Services Division. All contributions are also greatly appreciated.