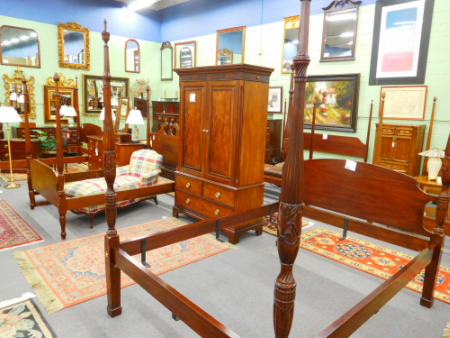 It's not to late to have your guest room ready for your out of town company! That's because we have Baltimore and Washington DC's biggest and best selection of High Quality Cherry and Mahogany Bedroom Furniture ready to be delivered today!
Pictured here are several pieces that we just placed on our showroom floor yesterday afternoon. The Mahogany Bedroom Armoire is from Ethan Allen and has shelving in the top to hold anything your Holiday guests may bring! The Henkel Harris Queen Sized Rice Carved Poster Bed is a Traditional Furniture Classic! The rich mahogany finish will have your guests feeling like they're staying at an upscale boutique hotel.
If you prefer to create your own Master Bedroom Suite Oasis, there's a Solid Mahogany King Size Poster Bed in the background of the picture that will get you started! In either case, visit Cornerstone today to see these and many other pieces of Just Arrived Furniture!