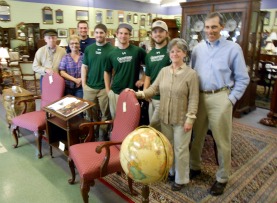 Customer Appreciation Days!! Thursday, Friday and Saturday!!
While we value and appreciate our customers every day, once a year, we like to celebrate their patronage with a special Customer Appreciation Event! So this Thursday, Friday and Saturday, we would like to invite all of our customers, Old and New, to visit our Timonium Store and take advantage of Special Savings and Events planned just for you!
Thursday, April 19th, Free Delivery!
All furniture purchases made on April 19th will include Free Local Delivery- a $75 value! All purchases outside of our delivery area will receive $75 off the delivery fee!
Friday, April 20th, New Furniture Sale!
It's financially tough to make the prices in our New Department any better. But what better way to show our appreciation than to "give till it hurts!" So, on April 20th, you can take 15% Off Anything in our New Furniture Department. That's 15% off our already low, low prices on Sofas, Chairs, Flat Screen TV Cabinets and More. It even includes Rugs, Lamps, Mirrors and Special Orders of our Custom Furniture.
Saturday, April 21st- Warehouse Sale and Furniture Care Demonstrations!
20% Off All the Unprepped Furniture in our Warehouse!
Furniture Care Demonstrations- 10am and 2pm! Our own Lillie Taormino will Demonstate how we make every piece of furniture ready to put in your home! She'll also be answering questions and giving suggestions on how to keep your furniture looking great for years and years!
Daily Food and Raffles!
Whether you come in once, or all three days, enter our Free Raffle Each Time You Visit!
You'll have a chance to win Furniture Care Products, Gift Certificates and More!
The Drawings will be Daily at 4:30 pm. You do not have to be present to win!