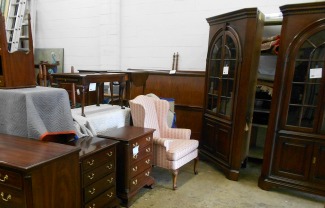 Friday was a busy, busy day at Baltimore's Favorite Furniture Store! It took 2 trips to get all of the Beautiful Consignment Furniture from a local Phoenix, Maryland estate to our door. Here's a picture of the first truckload being placed on our dock.
You can see the Fabulous Pair of Solid Cherry Statton Corner Cabinets on the right. The picture also shows a Henkel Harris Dresser, Bedside Chests and King Bed in the far back. Stacked on top of some blanketed bedroom furniture are some Statton End Tables and Coffee Table. The Henkel Harris New Market Tall Chest is coming in on the next truck!
As our Dedicated Regular Customers Know- Something Is Always Happening at Cornerstone! So, while it's certainly convenient to use our website to check on things, coming in person will often get you a Peek Behind the Curtain to see things as they happen and before we can get them photoed for our site!