---
Have Furniture or Accessories to Sell??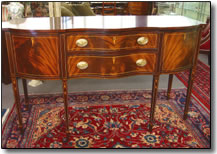 Our expertise, along with 28 years in business, assures the process will go smoothly. Cornerstone will Buy or Consign your high quality furniture. We have friendly and knowledgeable managers who can price your merchandise to get you the highest return possible. In addition, we use our own trained delivery specialists to get your furniture moved safely........(Read More)
---
Consignment Furniture Arrives Daily! Click the "Just Arrived Furniture" button on the upper left to see the latest inventory arrivals. Stay Posted Here for the Latest Store News.............
---
Kindel Banded Dining Room Table, Stickley and Maitland Smith Shieldback Chairs and More!
November 15, 2014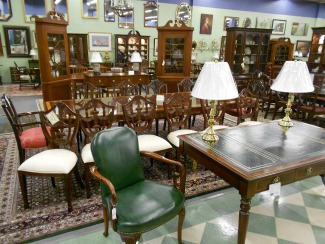 Baltimore's Favorite Consignment Store has Traditional Cherry and Mahogany Furniture Arriving Daily! Which means it's not to late to have your home looking great for Holiday Entertaining. The Kindel Mahogany Inlaid Dining Room Table in the middle of this picture just arrived this week and is sure to find a new home soon. Whether you prefer Chippendale, Hepplewhite or Queen Anne Chairs, Cornerstone has you covered with a Fabulous Selection of Pre-Owned, Consignment Furniture Selling at Just a Fraction of It's Original Cost!
Also pictured is just one of many desks we currently have in stock. While many people are thinking of Dining Room this time of year, don't miss the chance to choose from one of the Biggest Selections of Home Office Furniture and Executive Desks that we've had in a long, long time.
And remember, while we picture every piece of Showroom Furniture on our website, we always have a large selection of pieces waiting on our Dock and Preview Room that haven't been photoed for the site yet. So, It's Always Worth the Trip to Timonium to See the Area's Largest and Best Selection of Consignment Furniture!
---
Mahogany and Cherry Traditional Dining Room Furniture Arriving Daily!!
November 1, 2014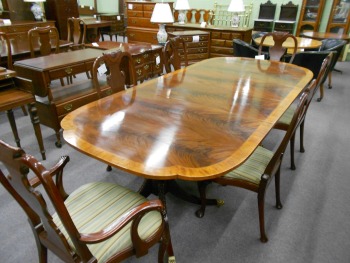 As we welcome in November, we're reminded that it won't be long before the guests start arriving to celebrate Holiday meals with us. Fortunately, there's a way to get your Dining Room Looking Great without taking out a home equity loan!
Pictured here are Dining Room Sets from two great makers- Baker Furniture and Ethan Allen. These two sets are just making their way out on the floor and haven't even been photoed for the inventory section of our website yet.
A visit to our store today will get you the first look. If you miss these sets, don't worry, our truck is scheduled to pick up some Beautiful Inlaid Mahogany Sets next week as well. So, don't think you've waited to long to get your home looking great for the Holidays. At Baltimore's Favorite Furniture Consignment Store, everything is ready to for you to Take Home Today!
---
Read more about the latest happenings at Cornerstone Antiques
.