---
Have Furniture or Accessories to Sell??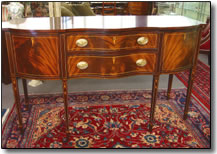 Our expertise, along with 28 years in business, assures the process will go smoothly. Cornerstone will Buy or Consign your high quality furniture. We have friendly and knowledgeable managers who can price your merchandise to get you the highest return possible. In addition, we use our own trained delivery specialists to get your furniture moved safely........(Read More)
---
Consignment Furniture Arrives Daily! Click the "Just Arrived Furniture" button on the upper left to see the latest inventory arrivals. Stay Posted Here for the Latest Store News.............
---
Henkel Harris, Harden and Ethan Allen Dining Room and Bedroom Furniture Arrive on the Same Day!
April 9, 2014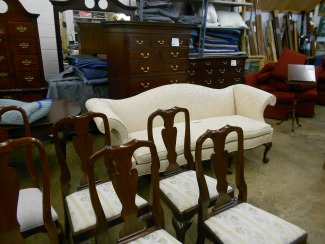 Yesterday was another great day of Quality Furniture Arrivals here at Baltimore and Washington DC's favorite consignment store. Pictured in the far right are pieces of a Red Sectional Sofa by High Quality Maker Southwood. The Off-white Chippendale Sofa is by Southwood as well. The Bedroom Chest and Dresser are from Henkel Harris! These pieces are from an immaculate home in Silver Spring, Maryland. They are like-new and will please even the most discriminating buyer!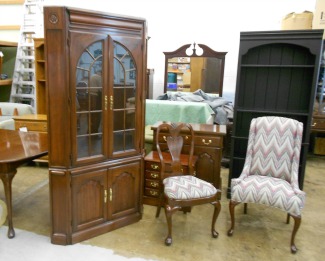 If you're searching for Beautiful Traditional Dining Room Furniture, you may want to visit as soon as possible. Part of these arrivals are Dining Room Furniture from Henkel Harris, Ethan Allen and Harden. All of these pieces are made of Solid Mahogany or Cherry. You'll find Tables, Chairs, Sideboards, Servers and Corner Cabinets. Pictured here is just a small sampling of some pieces as they passed through our dock area.
---
"House of Cards" Selling No Longer Needed Furniture and More!
March 22, 2014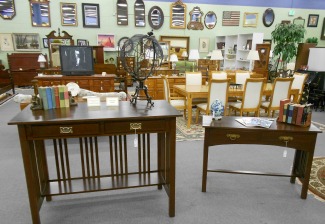 It's no secret that Baltimore Loves "House of Cards!" What may not be quite as well known is that everyone here at Cornerstone Loves their Furniture and Accessories almost as much as the show. That's because over the last few years, Baltimore and Washington DC's Favorite Consignment Store has been helping the wonderful staff from House of Cards fill their sets with great looking, traditional furniture, worthy of a Washington DC office or home.
And while we've loved selling them pieces (we truly appreciate their business), it's fun to help them sell a bit of the pieces that have finished their time in the spotlight. This gives our great clientele a chance to Own and Enjoy a Piece of TV History. Better still, all of these quality pieces are available at a low everyday Cornerstone price. The great little story that comes with each piece is yours at no extra charge!
Stop in today to get your little piece of Netflix history.
---
Read more about the latest happenings at Cornerstone Antiques
.