---
Have Furniture or Accessories to Sell??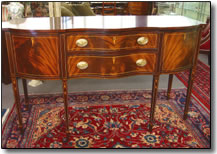 Our expertise, along with 28 years in business, assures the process will go smoothly. Cornerstone will Buy or Consign your high quality furniture. We have friendly and knowledgeable managers who can price your merchandise to get you the highest return possible. In addition, we use our own trained delivery specialists to get your furniture moved safely........(Read More)
---
Consignment Furniture Arrives Daily! Click the "Just Arrived Furniture" button on the upper left to see the latest inventory arrivals. Stay Posted Here for the Latest Store News.............
---
Traditional Poster Beds, Dressers and Tall Chests Sure to Make Your Bedroom a Calming Retreat!
June 24, 2015
If you've dreamed of ending your day surrounded by Beautiful Classic Bedroom Furniture, Cornerstone can help you do it at a fraction of the cost you'd expect to pay at a New High-End Furniture Store. That's because we fill our 9,000 square foot Timonium Store with Quality Traditional Furniture from America's Best Makers. In this picture taken yesterday, you'll find names like Henkel Harris, Statton, Ethan Allen, Kling, Thomasville and More. We've got Mahogany and Cherry Poster Beds, Highboys, Triple Dressers, Nightstands and More. All in "like-new" condition and ready to Take Home Today! So, make the trip to Timonium to see just how far your furniture dollar can go!
---
Kittinger Sideboard, Henkel Harris Dining Room Furniture and More Fill the Dock Area!
June 10, 2015
Here's a picture of our dock area taken yesterday. It's just a glimpse of some of the Great Consignment Furniture that passes through this area daily! Furniture lovers will spot the Henkel Harris Dining Room Table in the middle of the photo. But look beyond the Kindel Inlaid Sideboard and you'll see pieces from Howard Miller, Hancock and Moore and Others. By closing time yesterday, this area had been completely cleared (some pieces selling and others being moved into our Preview Room) to make room for another truckload of wonderful Estate Furniture from Ellicott City, Maryland.
The next picture shows an area of the store with some more Casual Furniture offerings. Lightwood Dining Sets, Comfy Loveseats and More! We didn't become Baltimore and Washington DC's Favorite Consignment Furniture Store Overnight. We've had almost 30 years of perfecting our craft. We follow that with a Daily Commitment to Hard Work and Customer Satisfaction. Make the trip to Timonium to see for yourself.
---
Read more about the latest happenings at Cornerstone Antiques
.