---
Have Furniture or Accessories to Sell??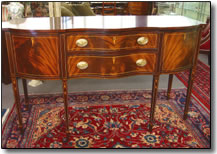 Our expertise, along with 28 years in business, assures the process will go smoothly. Cornerstone will Buy or Consign your high quality furniture. We have friendly and knowledgeable managers who can price your merchandise to get you the highest return possible. In addition, we use our own trained delivery specialists to get your furniture moved safely........(Read More)
---
Consignment Furniture Arrives Daily! Click the "Just Arrived Furniture" button on the upper left to see the latest inventory arrivals. Stay Posted Here for the Latest Store News.............
---
Find Great Consignment Furniture Values in Our Preview Room!
April 19, 2014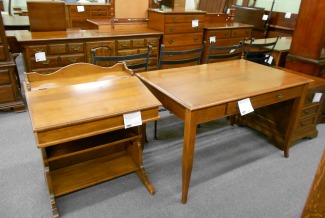 As committed as we are to keeping our website updated throughout the week-every week, great consignment furniture arrives faster than we can prep, photo and place it on our site. That's why we created our Preview Room! This allows customers visiting the store a chance to see the very latest arrivals as we unload and tag them.
Pictured here are two desks (the one on the right is by Ethan Allen) as well as some bedroom and other other pieces waiting their turn to be prepped and placed on our showroom floor. But you don't have to wait! Stop by the store any day and take a peek at pieces before they get on the website. It's just one more way that we work hard to be Baltimore's favorite consignment store.
---
Henkel Harris, Harden and Ethan Allen Dining Room and Bedroom Furniture Arrive on the Same Day!
April 9, 2014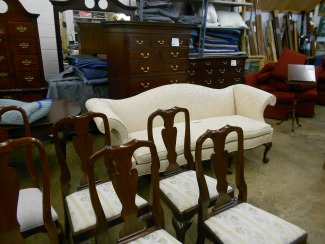 Yesterday was another great day of Quality Furniture Arrivals here at Baltimore and Washington DC's favorite consignment store. Pictured in the far right are pieces of a Red Sectional Sofa by High Quality Maker Southwood. The Off-white Chippendale Sofa is by Southwood as well. The Bedroom Chest and Dresser are from Henkel Harris! These pieces are from an immaculate home in Silver Spring, Maryland. They are like-new and will please even the most discriminating buyer!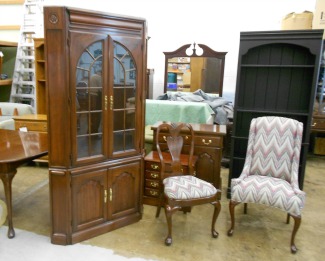 If you're searching for Beautiful Traditional Dining Room Furniture, you may want to visit as soon as possible. Part of these arrivals are Dining Room Furniture from Henkel Harris, Ethan Allen and Harden. All of these pieces are made of Solid Mahogany or Cherry. You'll find Tables, Chairs, Sideboards, Servers and Corner Cabinets. Pictured here is just a small sampling of some pieces as they passed through our dock area.
---
Read more about the latest happenings at Cornerstone Antiques
.