---
Have Furniture or Accessories to Sell??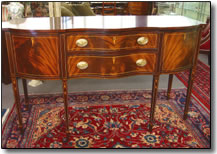 Our expertise, along with 28 years in business, assures the process will go smoothly. Cornerstone will Buy or Consign your high quality furniture. We have friendly and knowledgeable managers who can price your merchandise to get you the highest return possible. In addition, we use our own trained delivery specialists to get your furniture moved safely........(Read More)
---
Consignment Furniture Arrives Daily! Click the "Just Arrived Furniture" button on the upper left to see the latest inventory arrivals. Stay Posted Here for the Latest Store News.............
---
Adding New Consignment Furniture Daily!
May 20, 2015
When you love beautiful furniture as much as all the Staff here at Cornerstone, Spring Time is a Great Time to be in the Furniture Consignment Business! That's because every day brings loads of Baltimore and Washington DC's best Estate Furniture right to our door. Pictured in this posting are just a few of the pieces we placed on our showroom floor yesterday.
The first photo is of an inlaid Banquet Table measuring over 11 feet long. Purchase it along with the set of 12 Chippendale Chairs and you'll have a Dining Room Make-Over that is sure to impress! The hard to find lighter color makes this set even more special. The Pearson Sectional Sofa pictured on the left is eight-way hand tied and costs thousands of dollars new. But at Baltimore's Favorite Consignment Store, you'll pay only $995! You read that right- $995!
The last picture is of an almost new Henkel Harris Dining Room Set. This solid mahogany group includes the Table with 3 Leaves, Set of 6 Chippendale Chairs, and an Inlaid Hepplewhite Sideboard. Brought in from a home just outside of Washington DC, it's a good example of the High Quality Furniture that Cornerstone is known to carry every day. So stop in today to see these and all of the latest arrivals at Baltimore's Favorite Furniture Consignment Store!
---
Busy Time at Baltimore's Favorite Consignment Store with Furniture Arriving Daily!
May 2, 2015
This photo, taken earlier this week, shows the wide range of furniture styles that arrive in our back room on any given day! Look beyond the poker/game table set to find China Cabinets from Stickley and PA House. We also took in some nice sunroom/patio furniture as well as some painted pieces.
Spring has Sprung in the Baltimore Area and that also signals the start of "Moving Season". A wonderful time for Consignment Store Shoppers, Moving Season fills the store with all kinds of great furniture. We also see Seasonal Furniture, like Wicker and Metal Sunroom and Patio Sets, that we only consign in the Spring. So take a break from the yard chores and stop by to see all of the Fabulous Spring Values at Baltimore's Favorite Furniture Consignment Store- Cornerstone!
---
Read more about the latest happenings at Cornerstone Antiques
.