---
Have Furniture or Accessories to Sell??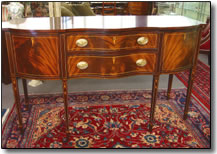 Our expertise, along with 28 years in business, assures the process will go smoothly. Cornerstone will Buy or Consign your high quality furniture. We have friendly and knowledgeable managers who can price your merchandise to get you the highest return possible. In addition, we use our own trained delivery specialists to get your furniture moved safely........(Read More)
---
Consignment Furniture Arrives Daily! Click the "Just Arrived Furniture" button on the upper left to see the latest inventory arrivals. Stay Posted Here for the Latest Store News.............
---
Fabulous Century Sofa and Henredon End Tables!
July 18, 2014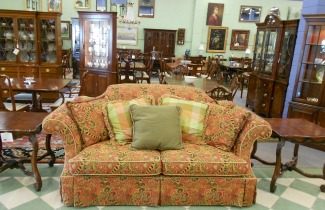 If you want to have Great Designer Upholstery at a fraction of what it would cost new, this is a great week to visit Baltimore's Favorite Furniture Consignment Store! The Century Sofa pictured here and the Pair of Henredon End Tables were part of a home that was professionally designed. The owners are now down-sizing and don't have room for some of the wonderful furniture they've enjoyed over the years. Click our "Sofas/Loveseats" as well as "Occasional Chairs & Rockers" to see all the Great Values from Makers like Hancock and Moore, Southwood and Others!
Pictured just behind the Sofa is a Statton Curio, a Henkel Harris Corner Cabinet and other fine traditional furniture from America's Top Makers. Stop in today to see them in person.
---
Kittinger Executive Desk, Banded Table, and More, Create Traffic Jam on Dock!
July 2, 2014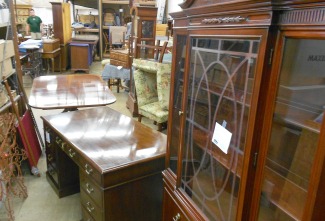 While we hope your Holiday Travel Plans have you avoiding any traffic problems, it's not that unusual to see some back-ups on our loading dock. That's because as Baltimore's Favorite Place to Buy and Sell Great Furniture, our dock sees a lot of traffic. But, as you can see in the background, our hard working staff stays very busy keeping everything moving!
Pictured here are pieces from our morning pick-ups yesterday. They include a Kittinger Desk, an Inlaid Mahogany Dining Room Table, a nice China Cabinet and More. Also in the photo is a very nice Inlaid Grandfather's Clock by Howard Miller. Stop in today to see them all in person!
---
Read more about the latest happenings at Cornerstone Antiques
.