---
Have Furniture or Accessories to Sell??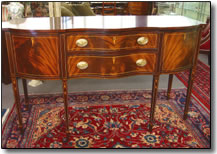 Our expertise, along with 28 years in business, assures the process will go smoothly. Cornerstone will Buy or Consign your high quality furniture. We have friendly and knowledgeable managers who can price your merchandise to get you the highest return possible. In addition, we use our own trained delivery specialists to get your furniture moved safely........(Read More)
---
Consignment Furniture Arrives Daily! Click the "Just Arrived Furniture" button on the upper left to see the latest inventory arrivals. Stay Posted Here for the Latest Store News.............
---
Ethan Allen Inlaid Banded Dining Room Table Just Arrived!
March 8, 2014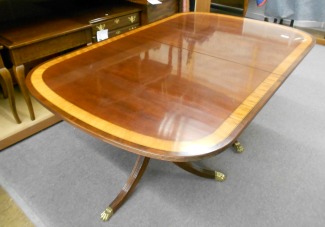 This may be the table you've been waiting to find! Not only beautiful, this Traditional Inlaid Mahogany Table has two large leaves that expand it's length to Ten Feet! That means you'll be ready for any entertaining situation. Small gathering- the table is 6 feet long without the leaves. Add a leaf- add two more feet: 6, 8 or 10, you're ready for anything. This table shows great at any size, with Fabulous Satinwood Inlays and a rich mahogany color.
Stop in today to see this Quality Ethan Allen piece, as well as the many other Estate Pieces we've picked up just this week- pieces from Baker, Thomasville, PA House and More!
---
Light Wood Modern Dining Room Furniture Arrives on Consignment!
February 26, 2014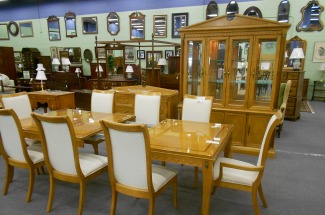 Our wonderful Baltimore and Washington DC customers think of Cornerstone first when it comes to High Quality Traditional Dark Wood Furniture- think Henkel Harris, Ethan Allen, Baker, Kittinger, Statton, Stickley, Etc. But they also know that we've always got a few surprises to keep things interesting. After all, variety is the spice of life- right?
This week's surprise is this great looking, light wood, Modern-Style Dining Room Set. It's table comes with two large leaves so that it can easily accommodate the eight matching chairs. The sleek lines of the sideboard and the large breakfront will finish off the room.
Use the drop down menu of Manufacturers to see all your favorites. Or, click Just Arrived Furniture to see all of our inventory starting with the last piece we added to the site. Who knows, you may be surprised to fall in love with something out of the ordinary. It happens to us all the time!
---
Read more about the latest happenings at Cornerstone Antiques
.