---
Have Furniture or Accessories to Sell??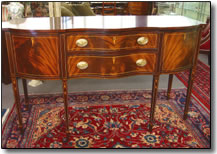 Our expertise, along with 28 years in business, assures the process will go smoothly. Cornerstone will Buy or Consign your high quality furniture. We have friendly and knowledgeable managers who can price your merchandise to get you the highest return possible. In addition, we use our own trained delivery specialists to get your furniture moved safely........(Read More)
---
Consignment Furniture Arrives Daily! Click the "Just Arrived Furniture" button on the upper left to see the latest inventory arrivals. Stay Posted Here for the Latest Store News.............
---
This Week's Furniture Sale Follows Baltimore's Biggest Snowstorm of 2015!
February 22, 2015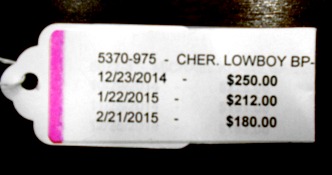 One of our jobs as Baltimore's Favorite Home Furnishings Consignment Store is to turn our clients no longer needed High Quality Furniture into Cash. One way we do this is by reducing the price on most of our inventory by 15% after 30 and 60 days. Giving our customers even more savings from our already low starting price!
But sometimes the Cold and Snow of Winter means that we have to work even harder. So, for this week only (February 24th through 28th, 2015) we're taking an additional 30% Off any piece of furniture in our store that has reached it's second 15% reduction. That's right, an additional 30% off any furniture that has already had two price reductions. Pictured here is an example of the tag from one of the pieces included in this week's sale. It's a very nice Cherrry Queen Anne Lowboy. And as you can see by the price tag, it's just reached it's bottom price.
So hurry in to see this, and all of our Great Consignment Furniture. If the piece you're admiring has gotten to it's second reduction, you can save another 30%!
---
Stickley Traditional Dining Room Furniture, Baker Round Pine Table, and More Shown Arriving in Our Back Room.
February 8, 2015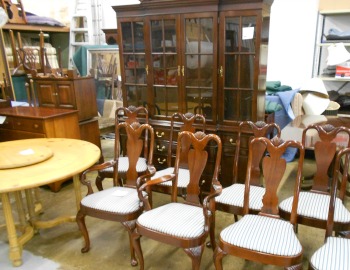 Do you want to give your Valentine a present that will be remembered long after the flowers have wilted? Think Furniture! You know she wants it.You know she'll love it. You know she's going to buy it anyways! So, get a present out of it!
Here's a picture taken on our dock Friday of some Great Traditional Mahogany Dining Room Furniture from Stickley. The set was just brought in from a home outside of Washington DC. It includes a Breakfront, Table with two leaves (back right), and a set of eight Queen Anne chairs. The set spent very little time in our workshop checking for any small mark or scratch and was quickly placed on our showroom floor. If you're in the market for a lighter touch, the Round Pine Table from Baker (pictured to the left of the Stickley furniture) may be just what you need. It came from the same lovely home as the Stickley pieces.
---
Read more about the latest happenings at Cornerstone Antiques
.