---
Have Furniture or Accessories to Sell??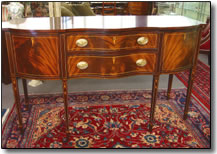 Our expertise, along with 28 years in business, assures the process will go smoothly. Cornerstone will Buy or Consign your high quality furniture. We have friendly and knowledgeable managers who can price your merchandise to get you the highest return possible. In addition, we use our own trained delivery specialists to get your furniture moved safely........(Read More)
---
Consignment Furniture Arrives Daily! Click the "Just Arrived Furniture" button on the upper left to see the latest inventory arrivals. Stay Posted Here for the Latest Store News.............
---
Executive Desk, Lateral File and More Fill Our Preview Room.
July 18, 2015
Like our Showroom Floor and Dock Area, our Preview Room is always changing, bringing you Baltimore's Biggest and Best Selection of High Quality Consignment Furniture! This picture taken yesterday shows a Beautiful Mahogany Executive Desk surrounded by many other pieces waiting to find their spot on our sales floor.
But, you don't have to wait. Visit Cornerstone today and you can search behind the scenes to find pieces yet to make the website. Bedroom, Dining Room, Living Room and More, we've always got pieces just arriving to the store. And you're welcome to search them out where ever they may be!
---
Traditional Mahogany and Cherry Dining Room Furniture Never Goes Out of Style!
July 4, 2015
Our regular customers know that we work hard every day to bring you a Wide Range of Styles and Prices. But rest assured, we'll never stop bringing you a huge selection of High Quality Traditional Furniture from America's Best Manufacturers! That's because these Mahogany and Cherry 18th Century Style Pieces have timeless beauty that never goes out of favor.
Pictured here on our dock yesterday are pieces from Hickory Chair, Thomasville and Others. There's an Inlaid Breakfront, two Inlaid Sideboards, a Grandfathers Clock, two sets of Chippendale Chairs, and More. We were able to get some of these pieces prepped and placed on the floor. The others will have to wait until we return next Tuesday, as we are closed to celebrate the July 4th Holiday with our family and friends!
As we celebrate this Remembrance of Our Independence, everyone at Cornerstone would like to Thank the Members of our Armed Services, both past and present, for their sacrifice. May God Bless You and Keep You Safe!
---
Read more about the latest happenings at Cornerstone Antiques
.