---
Have Furniture or Accessories to Sell??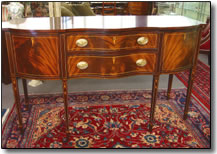 Our expertise, along with 28 years in business, assures the process will go smoothly. Cornerstone will Buy or Consign your high quality furniture. We have friendly and knowledgeable managers who can price your merchandise to get you the highest return possible. In addition, we use our own trained delivery specialists to get your furniture moved safely........(Read More)
---
Consignment Furniture Arrives Daily! Click the "Just Arrived Furniture" button on the upper left to see the latest inventory arrivals. Stay Posted Here for the Latest Store News.............
---
Kittinger, Statton, Hekman, Ethan Allen and More at Baltimore's Favorite Furniture Consignment Store!
September 12, 2014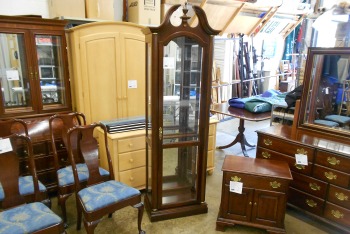 Traditional Mahogany and Cherry Furniture from America's Best Makers never goes out of style. We know that not every room in your home needs a formal look, but we also know that Buying Classic Forms of Furniture Will be an Investment You're Sure to be Pleased with for Years to Come. So, while many new furniture stores have abandoned the classics, we're going to continue to give Baltimore great value on furniture that will look stylish for years to come!
Pictured just off of our dock this afternoon are Queen Anne Dining Room Chairs and a Banded Mahogany Pedestal Table from Kittinger. There's also a Cylinder Roll Secretary Desk from Hekman and Bedroom pieces from Statton and Ethan Allen! The Light Maple Pieces from Ethan Allen are great examples of Traditional-Casual Furniture. Furniture made for a more casual life style, but with Timeless Beauty! See these and all our most recent additions by visiting the store this weekend and peeking behind the curtain to our backroom.
---
Baltimore County Estate has All of Your Favorite Furniture Makers- Potthast, Baker, Councill Craftsmen, Maitland Smith and More!
September 4, 2014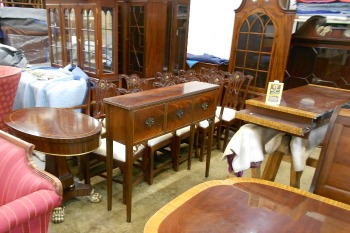 Another busy day at Baltimore's Favorite Consignment Store as we bring in some Beautiful Inlaid Mahogany Furniture from a local estate! The photo taken near our dock yesterday shows the corner of a Banded Mahogany Dining Table from Councill Craftsmen. Also pictured are a set of 10 Chippendale Chairs from Maitland Smith and a Potthast Brothers Corner Cabinet!
In the foreground is a Duncan Phyfe Sofa. And if you look closely, you can spot the top of an Inlaid Baker Breakfront hiding in the back. If you've been looking for A Large Breakfront that will "Make a Statement", look no further. This 82 inch wide piece will make your party guests jaws drop!
So hurry in today to see these and all the other Fine Traditional Furniture Pieces we've added to our store this week!
---
Read more about the latest happenings at Cornerstone Antiques
.