---
Have Furniture or Accessories to Sell??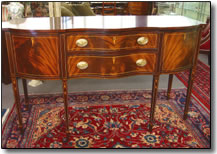 Our expertise, along with 28 years in business, assures the process will go smoothly. Cornerstone will Buy or Consign your high quality furniture. We have friendly and knowledgeable managers who can price your merchandise to get you the highest return possible. In addition, we use our own trained delivery specialists to get your furniture moved safely........(Read More)
---
Consignment Furniture Arrives Daily! Click the "Just Arrived Furniture" button on the upper left to see the latest inventory arrivals. Stay Posted Here for the Latest Store News.............
---
Traditional Mahogany and Cherry Dining Room Furniture!
October 10, 2015
Have you volunteered to host your extended family this Holiday Season but wish your Dining Room Furniture were up to the challenge? Let Cornerstone help. We've got the Biggest and Best Selection of High Quality Consignment Dining Room Furniture in all of the Baltimore and Washington DC area! You'll find Tables, Chairs, Breakfronts, Sideboards, Servers and More- all prepped and polished by our workshop staff and ready to Take Home Today!
These pictures taken just yesterday afternoon show some of the wonderful pieces you'll find in our 9,000 square foot store. We've got names like Henkel Harris, Hickory Chair, Statton, Stickley, Potthast Brothers, Pa House and More! Stop in today to see these and all the latest arrivals. Cornerstone wants to help make this Holiday one to remember!
---
Free Furniture Delivery! This Week Only!
September 29, 2015
It took many years to become Baltimore's Favorite Furniture Consignment Store. And through all the hard work each week, we never forget that it's our wonderful customers that make it all happen. So, this week (September 29,2015 through October 3,2015) we're giving all of our customers Free Local Delivery on all furniture purchases.
Don't live local? We'll take $75 off the fee when we deliver outside of our local area! Which means that all of our customers from the Washington DC area can save as well! But this special event is for this week only. So, Don't Delay – Shop Today!
---
Read more about the latest happenings at Cornerstone Antiques
.