---
Have Furniture or Accessories to Sell??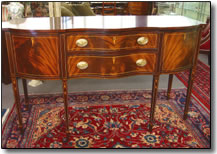 Our expertise, along with 30 years in business, assures the process will go smoothly. Cornerstone will Buy or Consign your high quality furniture. We have friendly and knowledgeable managers who can price your merchandise to get you the highest return possible. In addition, we use our own trained delivery specialists to get your furniture moved safely........(Read More)
---
Consignment Furniture Arrives Daily! Click the "Just Arrived Furniture" button on the upper left to see the latest inventory arrivals. Stay Posted Here for the Latest Store News.............
---
Wonderful Baltimore Estate Arrives on Dock, Bringing Smiles to Our Team!
February 9, 2016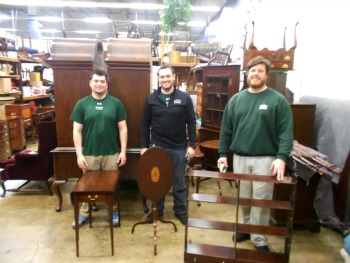 Our regular customers are used to seeing (from left to right) Arnold, Alex and Jeremy smile on the job. But, yesterday their grins stretched from ear to ear! That's because there's nothing any of them love more than a house full of Lovingly Cared For, High Quality, Name-Brand Furniture! The guys are pictured here in front of some of the Two Truck Loads of Furniture that we just brought in from a Local Baltimore Estate!
We've got Henkel Harris, Kittinger (many pieces part of the Colonial Williamsburg line), Baker, Hickory Chair, Kindel and More! Henkel Harris pieces include King and Queen Size Beds, Bonnet Top Highboys, Chests, Dresser, Mirrors, Silver Chest, Fire Screen, Nightstands and More. Also among the lot is a Chest on Chest on Chest from Baker's Historic Charleston Collection. Lots of Tea Tables and Stands from Henkel Harris and Kittinger to choose from in this group as well. So, don't delay, come in today to see this great furniture in person.
---
Last Day to Save with Cornerstone's Snow Storm Sale!
January 30, 2016
Today is your last day to Save on Your Favorite Piece of Furniture! Or, choose to have it delivered for free. Which ever you prefer, you're sure to love the selection of High Quality, Pre-owned Consignment Furniture you'll find at Cornerstone.
As you can see by the photo, we're all shoveled out from the Snow Storm of 2016 and ready for your visit. But, don't delay, this Sale Ends Today at 5pm!
---
Read more about the latest happenings at Cornerstone Antiques
.