---
Have Furniture or Accessories to Sell??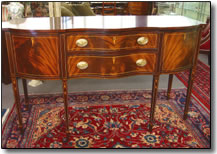 Our expertise, along with 28 years in business, assures the process will go smoothly. Cornerstone will Buy or Consign your high quality furniture. We have friendly and knowledgeable managers who can price your merchandise to get you the highest return possible. In addition, we use our own trained delivery specialists to get your furniture moved safely........(Read More)
---
Consignment Furniture Arrives Daily! Click the "Just Arrived Furniture" button on the upper left to see the latest inventory arrivals. Stay Posted Here for the Latest Store News.............
---
French Marble Top Console Table, Statton Cherry Dining Room, and More!
August 27, 2014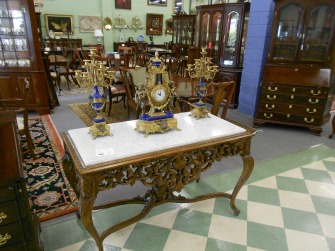 Here's a picture taken yesterday of our ever-changing front row. The Marble Top French Console is a great example on how you can put together a Timeless Traditional Design and still have a home with lots of style and flair!
Pictured just behind the front row is an Oval Solid Cherry Dining Table with Six Queen Anne Chairs. Made by Statton Furniture, this set is sure to give it's new owner years of use and pleasure. These are just a small amount of the wonderful Furniture that your Favorite Baltimore Consignment Store has scheduled to bring in this week. Stop in today to see it all!
---
Traditional Mahogany Secretary, Nice Ball and Claw Upholstered Chairs and More!
August 16, 2014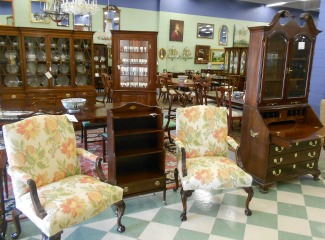 Here's a picture taken just yesterday afternoon of some Beautiful Traditional Furniture just coming out to the showroom floor. The pair of occasional chairs are the nicest we've had in some time. And the price of just $650 on the Fabulous Secretary Desk is a good example of how we remain Baltimore's Favorite Furniture Consignment Store year after year!
If you want even more ways to save, LIKE US on Facebook. We'll show our appreciation with special offers made exclusively for our followers! Join our Email Club, and you'll get just 8 to 10 emails per year with more great deals. All of these Money Saving Promotions are just one more way we thank you for helping us stay the areas best store for High End Traditional Furniture.
---
Read more about the latest happenings at Cornerstone Antiques
.