---
Have Furniture or Accessories to Sell??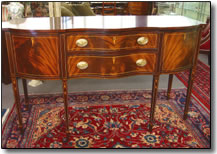 Our expertise, along with 28 years in business, assures the process will go smoothly. Cornerstone will Buy or Consign your high quality furniture. We have friendly and knowledgeable managers who can price your merchandise to get you the highest return possible. In addition, we use our own trained delivery specialists to get your furniture moved safely........(Read More)
---
Consignment Furniture Arrives Daily! Click the "Just Arrived Furniture" button on the upper left to see the latest inventory arrivals. Stay Posted Here for the Latest Store News.............
---
Mid Century Style from High End Maker Brownstone Furniture and Other Pieces Arriving this Week!
April 15, 2015
As "Moving Season" gets into full swing here in the Baltimore/Washington DC area, we continue to fill the store with a variety of styles. This Rosewood Mid Century Dining Room and Media Center pictured here are from Brownstone Furniture. Purchased from a high end retail store less than five years ago, these pieces are in like-new condition.
Other furniture arrivals this week range from Formal to Country! We've just placed an Antique Corner Cabinet on the floor, a Henkel Harris New Market Tall Chest, Sofa Table/Bookcase, and a Period Style Grandfathers/Tall Case Clock by Ridgeway. This is also the time of year we consign Wicker and other Seasonal Furniture. If you're looking to update your patio or sunroom, be sure to join our Want List. We'll then send you a photo, price and measurement of Seasonal Furniture when it arrives!
---
Light Wood or Dark Wood, Casual or Traditional, Baltimore and Washington DC's Best Consignment Furniture is at Cornerstone!
April 1, 2015
Here are two pictures taken in the store yesterday showing the wide range of styles you'll find at Cornerstone! With "Moving Season" fast approaching, we're working especially hard to bring you Baltimore and Washington DC's Biggest and Best selection of Consignment Furniture! And, as we show in the pictures, we're always full of surprises.
So, whether your tastes lean toward the Formal Traditional 18th Century Mahogany Style Furniture, or the Classic Country like the Antique Corner Cabinet and Chest shown in the first photo, we've got you covered. That's because, like many of our customers, we love furniture. Not just one style or period, but all kinds of furniture. Stop in today to see the pieces pictured here and all this week's arrivals.
---
Read more about the latest happenings at Cornerstone Antiques
.