---
Have Furniture or Accessories to Sell??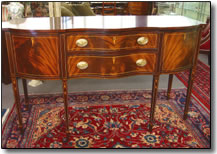 Our expertise, along with 28 years in business, assures the process will go smoothly. Cornerstone will Buy or Consign your high quality furniture. We have friendly and knowledgeable managers who can price your merchandise to get you the highest return possible. In addition, we use our own trained delivery specialists to get your furniture moved safely........(Read More)
---
Consignment Furniture Arrives Daily! Click the "Just Arrived Furniture" button on the upper left to see the latest inventory arrivals. Stay Posted Here for the Latest Store News.............
---
Ethan Allen Home Office Furniture!
October 18, 2014
This picture taken on our front row yesterday afternoon shows some wonderful Ethan Allen Home Office Furniture. The casual style will work great for people searching for a less formal look.Whether you Buy the Desk, a Bookcase, or the Entire Group, the value you get from buying on consignment will bring a smile to your face everyday.
Visit our Timonium Store, Located Just One Mile from the Baltimore Beltway, to see these and other Office Furniture in our 9,000 Square Foot Store. If it's a formal look you're after, you'll love the 72″ Sligh Executive Desk and Matching Credenza that just arrived yesterday.
---
Inlaid Traditional Dining Room Furniture from Potthast Brothers of Baltimore Maryland!
October 8, 2014
Now here's some Fabulous Estate Furniture that you certainly don't see every day! While many of our customers know and appreciate the quality of furniture makers like Henkel Harris, Stickley, Kittinger, and Statton, some still don't know about the early cabinet shops like Biggs and Potthast that started it all.
Pictured here are some of the Cabinet Made, Inlaid, Honduran Mahogany Dining Room pieces from Potthast that arrived on our dock yesterday. These fine pieces are older examples of Great 18th Century Reproductions from what was Baltimore's Favorite Furniture Maker for Over 100 Years. Pieces include a set of 8 Shieldback Chairs with Bellflower Inlay, a Williamsburg Hepplewhite Sideboard, an Inlaid Server, China Cabinet, and a Double Pedestal Dining Table. Stop in today to see these beauties in person!
---
Read more about the latest happenings at Cornerstone Antiques
.