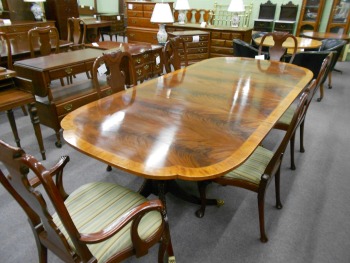 As we welcome in November, we're reminded that it won't be long before the guests start arriving to celebrate Holiday meals with us. Fortunately, there's a way to get your Dining Room Looking Great without taking out a home equity loan!
Pictured here are Dining Room Sets from two great makers- Baker Furniture and Ethan Allen. These two sets are just making their way out on the floor and haven't even been photoed for the inventory section of our website yet.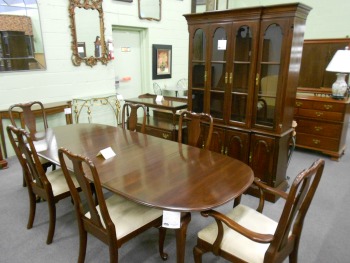 A visit to our store today will get you the first look. If you miss these sets, don't worry, our truck is scheduled to pick up some Beautiful Inlaid Mahogany Sets next week as well. So, don't think you've waited to long to get your home looking great for the Holidays. At Baltimore's Favorite Furniture Consignment Store, everything is ready to for you to Take Home Today!