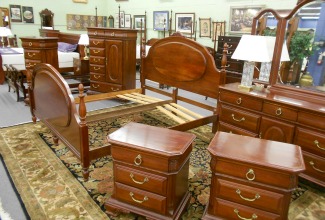 If it's time to upgrade that hand-me-down bedroom set to something you'll love to come home to, Look No Further! We have Baltimore and Washington DC's largest and best selection of High Quality, Consignment Bedroom Furniture.
Pictured here is a Solid Cherry Traditional Set that includes a King Size Bed that we placed on our floor yesterday. If you look closely, you can see the top of a Solid Cherry Queen Poster Bed by Statton that we just placed on our floor as well.
But don't blink! That's because none of these Great Furniture Values will be here long. That's why we always suggest using our Email Want List to let us help you find the pieces you're needing. By using our Want List, you don't need to be in our Timonium Store everyday to keep up with the latest arrivals. We're happy to send you a photo, price and measurement of anything that may fit your wishes. Sign up Right Now by clicking the lower left of this screen. Or, Stop in the store and we'll be happy to discuss your needs and sign you up right at the counter!