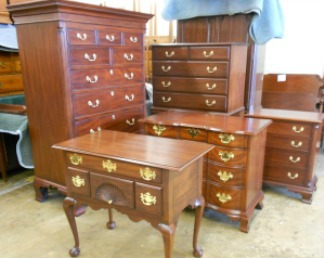 Now here's something that doesn't happen everyday! Even at Baltimore's Favorite Furniture Consignment Store. So, if you see our staff with even bigger smiles than usual when you come to visit, you'll know why. Not only did we just fill our back room with great furniture, but this is Top Quality, Henkel Harris Mahogany Bedroom and Diningroom Furniture That Looks Like The Day It Was Made!
That's right, Bed's-Chests-Tables-Chairs-Occasional Pieces and More. All purchased in 1990 and 1991 for a beautiful Timonium home, and kept in pristine condition. So don't wait for us to get all this furniture photoed and put on the website. Because it's All Available Today! Just slip "behind and the curtain" and buy it right off our dock. We'll take whatever pieces we have left next week and start putting them on our site.
Don't miss this chance to buy Fabulous Traditional Furniture for just a fraction of it's original price. Visit Today!