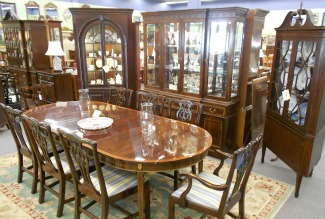 Where can you find America's Best Furniture Makers Under One Roof and at a Fraction of Their Original Cost? Only Cornerstone! Here's a picture of some wonderful Stickley Furniture that we've recently placed on our floor. The two Corner Cabinets are from Statton and Potthast.
And that's just a small sample of the Top Name Furniture that you'll find in our Huge Baltimore Store! We just put out a wonderful Henredon Armoire and some Solid Cherry Furniture in our Bedroom Area along with a pair of Inlaid Mahogany Twin Headboards and More.
Summer's a great time to be thinking about some furniture upgrades. People are moving and our store gets some fabulous pieces. Better still, you don't have to disrupt your summer plans- just place a Want List Request through our website and we can help you find the furniture that you've been searching for from the comfort of your own home! We'll email you a photo, measurement and price of any piece that matches your search requirements whenever they arrive in our store.