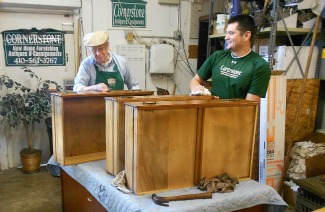 When it comes to Furniture Consignments in the Baltimore and Washington DC area, Nobody Does It Like Cornerstone! And that's not just a lot of talk. Every store likes to brag about it's High Quality Consignments. But it takes a lot of hard work to be Baltimore's Favorite Furniture Store!
Here's a picture of Wally and Arnold inspecting and cleaning the drawers from a Solid Cherry Bedroom Chest and Dresser made by Stickley. There are no short cuts when it comes to preparing furniture for our consignment floor. It's important to us that every drawer is working properly and ready for our customers to put right into their home. Nobody prepares furniture for consignment like Cornerstone!
Stop in today to see these Stickley Bedroom Pieces for yourself. We've also just added furniture by Biggs, Henkel Harris, Maddox, Madison Square, Hickory Chair, Sherrill and other top quality makers.Click our "Just Arrived Furniture" button near the top left of this page to see it all! Looking for that perfect bedroom or dining room piece but can't come in as often as you'd like? Let us help! Join our "Want List" and we'll email you a photo, price and measurement of pieces matching your needs as they arrive!