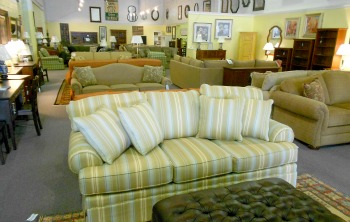 Staying Baltimore's Favorite Furniture Store is an ever changing process. Many of our long time customers remember the small Antique Furniture Shop we started in 1986. We've come a long way since then. Of course we've done it one piece at a time- Offering Baltimore and Washington DC Customers Superior Service, Price and Selection.
Well, it's time for another change to our operation. After many years of offering great deals on Close-Out and Discontinued Sofas in our New Department, we've decided to give up that part of our business. This will allow us to put even more focus on what we do best- bring you Baltimore's Best Selection of High Quality, Name Brand Consignment Furniture.
So, if you've been thinking about buying a new sofa, now is the time to come make your choice. We've still got a Fabulous Selection of American Made Sofas at Prices that the big stores "Sale Prices" can't touch! Like everything in our store, all of these brand new sofas are ready for immediate delivery, so you can have your home looking great today.