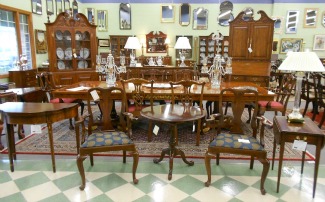 Here's a picture of our "front row" taken yesterday afternoon. We use this area by our front counter to stage some of our incoming Consignment Furniture as it comes out of our Prep Shop. This picture includes Henkel Harris Queen Anne Chairs, Inlaid Game Table and a Pembroke Table. The round Tilt Top Table is from Ethan Allen. Behind the front row are two very hard to find pieces by Henkel Harris- a Secretary Desk and Carved Corner Cabinet, as well as other High Quality Inlaid Mahogany and Cherry Furniture.
Like the rest of our Timonium Consignment Store, the "front row" is always changing. That's because customers from all over the Baltimore-Washington DC Market shop here to find the Very Best Selection of Traditional Furniture in the Area.
And because our Inventory is Always Changing, we highly recommend that you take advantage of our Email Want List! That way, you'll never miss a piece you've been waiting to find. Sign up today by clicking the link near the bottom left of this page. We'll email you a photo, price and measurement of pieces that meet your needs! It's that simple.