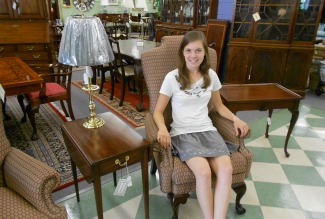 Here's Lydia showing that while this Pair of Drexel Heritage Chairs are great looking, they're also very comfortable! These chairs are just a part of some very nice upholstered pieces that arrived this week. We also just placed pieces by Harden, Statton, Henkel Harris, and others on our large showroom floor.
While many of our customers are busy this week getting the kids back to school and scheduling pool closings, we're busy Helping Baltimore and Washington DC Clients Downsize Their Homes and sell off pieces that no longer fit their space. That means that we've got a lot of furniture to prep, polish and display as we get ready for our very busy Fall Season.
So don't put off starting your search for new Dining Room, Living Room and Bedroom Furniture. Visit us now, and get a jump on the great deals that are sure to make your furniture dollar stretch! At Cornerstone, you'll find the area's best selection of High Quality Traditional Consignment Furniture, along with a friendly and knowledgeable staff happy to give assistance.