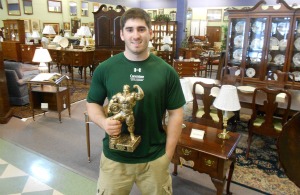 While moving furniture properly is certainly a combination of Brain and Brawn, Team Member Brian Hawkins proved to all of Baltimore last week that he's got Brawn to Spare! Brian won his class in the recent "Baltimore Open" Power Lifting Competition!
Brian's most recent trophy speaks not only to his excellence as an athlete, but to this young mans character. Brian stays on a strict diet and training schedule throughout the year. He does all of this while juggling a full-time course load at Towson State University, as well as a part time job here at Cornerstone.
Everyone here at Baltimore's Favorite Furniture Store is happy for Brian and this latest achievement. We're also very proud of the great group of young men that handle all of Cornerstone's Pickups and Deliveries. Supervisor Alex Hernan sets high standards for this stellar group, and they never let him down!
If you need any of your furniture purchases brought to you in a careful, timely manner, you can count on our in-house team of delivery specialists to get the job done. Whether you've purchased one piece or an entire truck load, all of our deliveries are done for one flat rate that is based on your zip code. So don't let "getting it home" deter you from making a great furniture purchase. Instead, turn to our trained experts to get the job done!