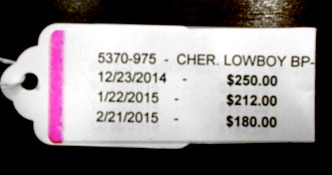 One of our jobs as Baltimore's Favorite Home Furnishings Consignment Store is to turn our clients no longer needed High Quality Furniture into Cash. One way we do this is by reducing the price on most of our inventory by 15% after 30 and 60 days. Giving our customers even more savings from our already low starting price!
But sometimes the Cold and Snow of Winter means that we have to work even harder. So, for this week only (February 24th through 28th, 2015) we're taking an additional 30% Off any piece of furniture in our store that has reached it's second 15% reduction. That's right, an additional 30% off any furniture that has already had two price reductions. Pictured here is an example of the tag from one of the pieces included in this week's sale. It's a very nice Cherrry Queen Anne Lowboy. And as you can see by the price tag, it's just reached it's bottom price.
So hurry in to see this, and all of our Great Consignment Furniture. If the piece you're admiring has gotten to it's second reduction, you can save another 30%!