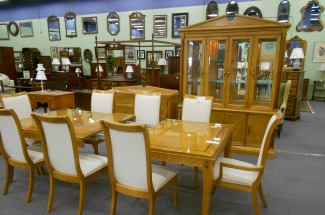 Our wonderful Baltimore and Washington DC customers think of Cornerstone first when it comes to High Quality Traditional Dark Wood Furniture- think Henkel Harris, Ethan Allen, Baker, Kittinger, Statton, Stickley, Etc. But they also know that we've always got a few surprises to keep things interesting. After all, variety is the spice of life- right?
This week's surprise is this great looking, light wood, Modern-Style Dining Room Set. It's table comes with two large leaves so that it can easily accommodate the eight matching chairs. The sleek lines of the sideboard and the large breakfront will finish off the room.
Use the drop down menu of Manufacturers to see all your favorites. Or, click Just Arrived Furniture to see all of our inventory starting with the last piece we added to the site. Who knows, you may be surprised to fall in love with something out of the ordinary. It happens to us all the time!