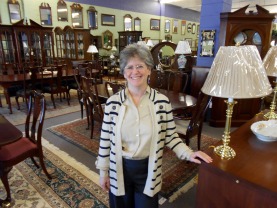 It's that time again! Gather up a few of your Prized Possessions and come see how much they're worth. Cornerstone's own Beth Plein will use her years of antique experience to appraise your pieces. She will be happy to see your antique or "just old" porcelain, china, pottery, old toys, early glass, paper, sterling silver, paintings, furniture and more*.
Beth, a second-generation antiques dealer, will be available this Thursday, April 12th, from 10am to 4pm on a first-come, first served, basis. So pack a few things in the car and come visit us in Timonium. You're sure to get some great information as well as some enjoyable time in Baltimore's Favorite Furniture Store!
*Limit 3 items per person. Further research may be necessary on some items or they may be refered to an alternate appraiser. We're sorry to say that we are not able to help with jewelry, watches, coins, stamps and military items.