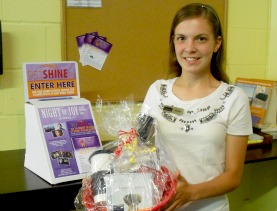 For many of our customers, it doesn't take much of a "nudge" to ad a visit to Cornerstone to their list of Things To Do. After all, they know that our 15,000 square foot store has Baltimore and Washington's Largest, and Best, Selection of high quality, consignment furniture. Every day there's new pieces arriving- names like Ethan Allen, Henkel Harris, Statton, Century, Biggs, Potthast and More!
But for those of you who haven't visited yet, here's a little motivation! From now until July 20th, you can Enter to Win a Trip for Two to Disney World! Cornerstone is one of just 10 Baltimore locations that has been chosen by Shine FM 95.1 to host an entry box for this wonderful trip.
Pictured here is high school student and owner's daughter, Lydia Drabik. Many of you know Lydia from her big smile and eagerness to assist you. In the picture, Lydia is holding the gift basket with 10 CD's and a $50 Gift Card that one of Cornerstone's customer's will win later this month. That winner will then have a one in ten chance of winning a trip to Disney in September. Get all of the details on the ShineFM website- www.wrbs.com.
So stop to visit us soon. Not only will you see a great selection of Consignment Furniture, you'll also find Baltimore's Best Selection of Brand New Close-outs and Discontinued Sofas and Chairs. Better still, you may find yourself and a friend on the way to Disney World!