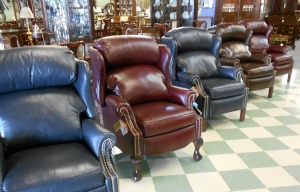 We just got a shipment of American-made, High Quality, All-leather Recliners into the store! They're available in Blue, Brown and Burgandy with both staight legs or ball and claw feet. But as with many fabulous deals, supplies are limited. So come in soon to get the very best selection on these Great Looking Bradington Young pieces.
Thought about Father's Day yet? Here's a chance to get give Dad a gift he'll remember for years to come! Better still, it's a gift the whole family will enjoy. Maybe you should buy a pair!
Compare these high quality recliners at other stores Sale Prices of $1295 and up. The Cornerstone Price on the straight-leg model- just $895!