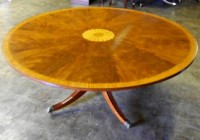 While summer time is certainly a great time to "slow down and relax", the passion our staff has for beautiful furniture just won't let us do it! Instead, we spend our summer days doing what we do all year long at Cornerstone- search and follow up every lead in the Baltimore and Washington area that can help bring us the Highest Quality Consignment Furniture Anywhere. And we love doing it!
Pictured here as it arrives on our warehouse dock is a fabulous inlaid 66 inch round mahogany dining table. It's going to make one of our customers very happy; and that makes us happy! Not pictured, but also just arriving is a wonderful mahogany cabinet by the Potthast Brothers of Baltimore. Every furniture lover knows and seeks out this high quality Cabinet-Made Furniture.
So, "slow down and relax" this week with a trip to see Baltimore and Washington's best and biggest selection of Fabulous Consignment Furniture. You'll find 15,000 square feet filled with Potthast, Henkel Harris, Statton, Charak, Ethan Allen, and More. All of it Prepped and Polished by our Workshop Staff and displayed in our clean and comfortable setting. And while you enjoy some leisurely shopping, we'll keep moving "full speed ahead" to find you more!