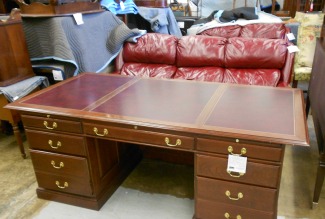 If you've been searching for office furniture for home or work, you'll want to start your day here at Baltimore's Favorite Furniture Consignment Store!This week has seen a large amount of wonderful Office furniture. Pieces that would be great for a home or business setting.
Pictured here on our dock late yesterday is a Solid Cherry Executive Desk by Harden. Behind it, from the same lovely home, are two Red Leather Sofas from Hancock and Moore. If you click our Desk/Office link on the left of this page, you'll see other great office pieces that came to us this week. Whether you need the size and prestige of the Cabinet-Made Partners Desk, or the functionality of the Stanley Desk, File and Bookcase Units, you're sure to find something to make your space more efficient and better looking!
Best of all, it's all brought to you at a low Cornerstone price- Saving You Hundreds of Dollars by selling at just a fraction of the items original cost!