Beth Plein, Consignment Manager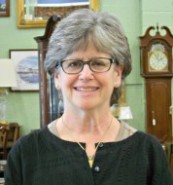 A second generation antiques dealer in the business for 30 years, Beth brings a wealth of experience to Cornerstone where she manages consignments of silver, glass, china, porcelain, rugs, furniture and so much more. With her love of research and years of buying and selling "smalls" and furniture, she has developed a broad and comprehensive knowledge base. Beth's insight makes her a valuable resource for Cornerstone consignors and shoppers alike.
Arnold Gonzales, Delivery Supervisor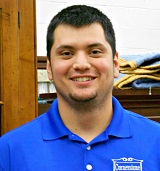 Arnold joined the Cornerstone Team in 2013 to oversee our Workshop as well as to assist with deliveries. Today Arnold can be found doing a variety of jobs throughout the store. Not only does he supervise deliveries, he also oversees our want list, website and social media posts! (We may have to come up with a longer Job Title for him!) Originally from Texas, customers are reassured by Arnold's laid back style as he makes sure every customer is given great service!
Furniture Prep Team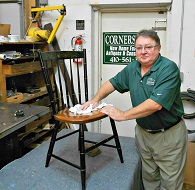 It takes many hands to bring beautiful antiques and previously owned furniture to our showroom floor. The skilled hands of our talented Prep Team are essential. Fortunately, Bill and and his helpers are not afraid to roll up their sleeves and get those hands dirty. They insure that every piece of consignment furniture is ready to be placed in your home. No other consignment store in Baltimore prepares furniture like we do.
Delivery Team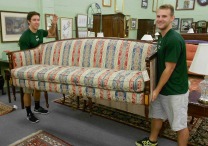 Cornerstone's trained delivery team knows how to protect and transport your furniture. Just another way that Cornerstone separates itself from other Baltimore consignment shops. Whether you're sending pieces in to be sold, or bringing home your new prized possessions, our team of delivery specialists can get the job done for one flat rate- no matter how many pieces.