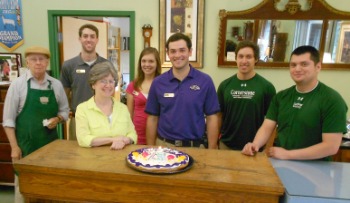 It takes many hands to bring Baltimore and Washington DC's Best Consignment Furniture to our showroom floor every week. And in the furniture business, having "young, strong hands" on staff is key to getting the job done!
As you can see by the picture, Cornerstone employee's cover a wide range of ages. From 16 year old, Lydia, to 87 year old Mr. Wally Nowlin, Cornerstone is a great mix of youth and wisdom. Fortunately for us, our own Alex Hernan is a combination of both! So, while we're thrilled to celebrate another Birthday with Alex, we also feel very Blessed to Have Him on Our Team.
Stop in to wish Alex a Happy Birthday this week and see all of the Great Consignment Furniture that we've got in stock. Just this week, we've brought in pieces by Stickley, Statton, Henkel Harris, Maitland Smith, and More!