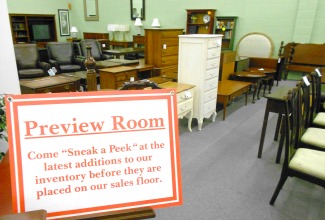 Answering our customers request to see furniture as it arrives on our dock, we've just opened our "Preview Room". Pictured here, it's a large area just behind our warehouse space that will serve many purposes. First and foremost, it will hold furniture that is waiting to be cleaned, polished and placed on our showroom floor. This will give all of our customers one more reason to visit us in person and See Furniture That Hasn't Been Put on the Website Yet!
You'll find all of the Top Quality Furniture that you've come to love us for- names like Henkel Harris, Statton, Ethan Allen and More. We'll also use the space to hold prepped and photoed pieces that are waiting for a spot in the showroom, as well as Special Purchases of New Furniture- Like our Close-out Leather Recliners!
So plan a visit today. Not only will you get a first hand look at the pieces you're seeing on our website, but you'll also be one of the first to see the newest additions to our inventory!